Introduction
In an event where your emails stop working correctly, and you need to troubleshoot them or switch providers, you will likely need to re-configure the Android email setup on your device. In this guide, we will go over the necessary steps to review, modify, and delete settings from your email application so that you can check, send, and receive emails on your phone seamlessly once again. Let's get started!
Accessing the Android Email Settings
To start things off, please open the email application on your Android device. Afterward, please click on the triple bar icon located at the top left corner of the screen.
Once you do this, you will see a new menu displaying the current email account and its mailboxes. Please click on the "Settings" (gear) icon located at the top right corner of the menu.
This action will take you to the "Email settings" screen. Under the first "Accounts" section, you will see all accounts currently configured on your Android email application. Please select the email you wish to edit by clicking on it.
Afterward, the device will display a new screen containing the email account setup.
Editing the Android Email Setup
Please scroll down to the "Advanced settings" section on the new screen, located at the very bottom of the screen. It contains the "Server settings" you need for your purpose.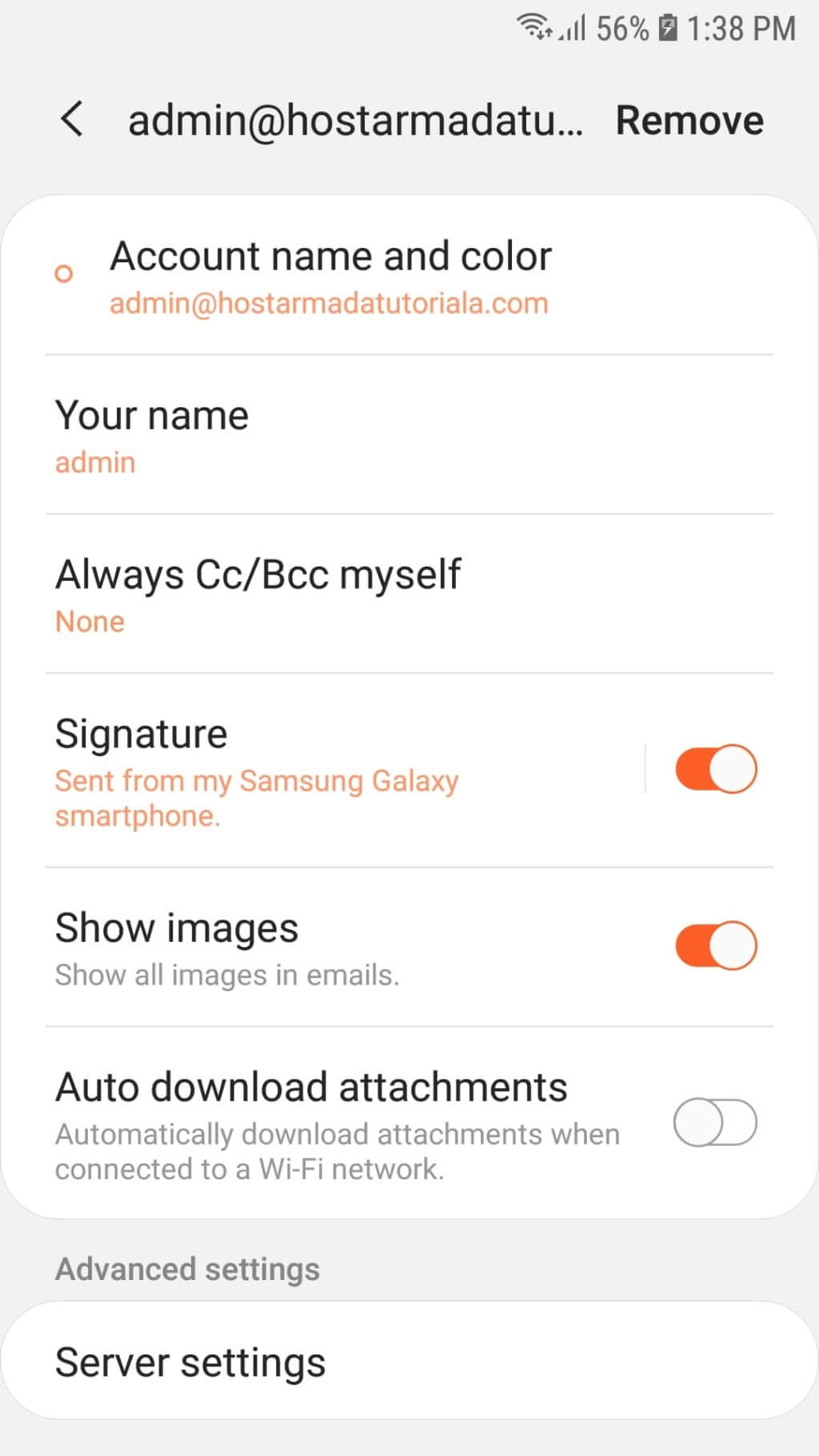 After you click on it, the email application will take you to the "Server settings" screen. It holds the same settings that you entered initially during the email setup.
Beneath the "Account" section, you will be able to modify the email account password if needed.
Under the "Incoming server" section, you can edit the Android email application IMAP/POP3 server, the security type, and port.
Below the "Outgoing server" section, you can edit the Android email SMTP server, security type, port, and authentication preferences, including the username and password.
Please click on the "Done" button to successfully add the newly inserted values.
Deleting an Android Email
If you no longer need a given Email Account, you can remove it with a single click. You can do this once you select the Android email setup from "Email settings". When your phone redirects you to the screen with the email settings, you will notice the "Remove" option displayed at the top right corner next to the email address.
Once you click on it, you will need to confirm the email account deletion by clicking on the "Remove" button in the "Remove account?" pop-up.
Well done! You have now learned how to modify the existing email application setup through your Android mobile device. We sincerely hope you have found the information in this guide useful and our instructions easy to follow. If you have any further questions, you can always address them to our Support Team, which is 24/7 available at your disposal.